Real Madrid named most valuable club
in Sports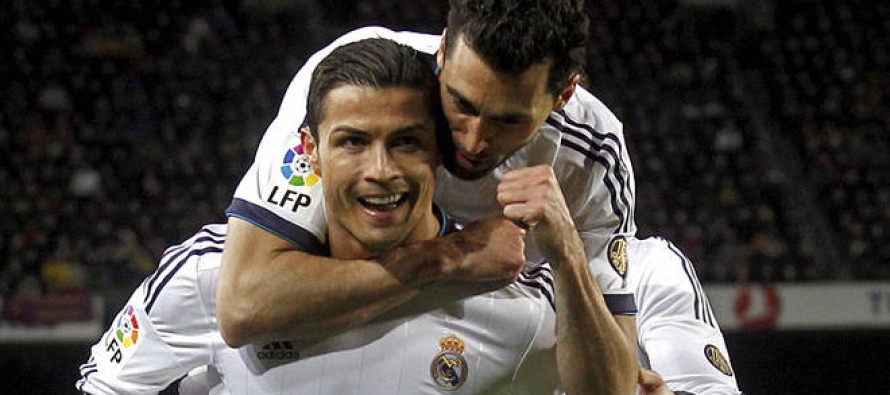 Real Madrid has passed Manchester United as the most valuable soccer team in Forbes' annual estimates.
Forbes valued Real Madrid at $3.3 billion in rankings released Wednesday, up 76 percent from last year's estimate of $1.88 million.
Manchester United, which had been No. 1 since Forbes started the list in 1994, was second at $3.17 billion, a 42 percent increase. Barcelona was third at $2.6 billion, followed by Arsenal ($1.33 billion), Bayern Munich($1.31 billion), AC Milan ($945 million), Chelsea ($901 million), Juventus ($694 million), Manchester City ($689 million) and Liverpool ($651 million).
AC Milan was the only team among the top 10 estimated to decline in value over the past year, dropping 4 percent.
Among players, Forbes estimated Paris Saint-Germain's David Beckham as the highest earner at $50.6 million, with $44 million from endorsements. Real Madrid's Cristiano Ronaldo was second at $43.5 million ($21.6 million in endorsements) and Barcelona's Lionel Messi third at $40.3 million ($20 million in endorsements).
Forbes said in a statement: "This is the first time since Forbes began valuing soccer teams in 2004 that Manchester United is not No.1 on the list.
"Real Madrid has been consistently delivering the highest revenues of any soccer team in the world, despite an intense economic meltdown in Spain. With superstars like Cristiano Ronaldo on the pitch, and coach Jose Mourinho on the bench, Real Madrid has thrived under the leadership of billionaire president Florentino Perez.
"According to this year's soccer valuations, the top 20 teams are worth an average of 968million dollars (£634m), an increase of 26% over last year. Forbes' team values are enterprise values (equity plus debt) that are based on multiples of revenue that teams garner from television, premium seating, media, licensing, merchandise and concessions." (Fox News)
---
---
Related Articles
Liverpool are into the quarter-finals of the FA Cup and will play Stoke after overcoming a Brighton side unfortunate enough
In the opening day of the First South Asian Invitational Men's Volleyball Championship, Nepal won 3-2 over Afghanistan in a
Real and Portugal midfielder Cristiano Ronaldo was awarded the 2011 National Sports Award for the best Ibero-American athlete. "It was