Shaheen Asmayee wins over Oqaban Hindukush on the 2nd day of AFL
in Sports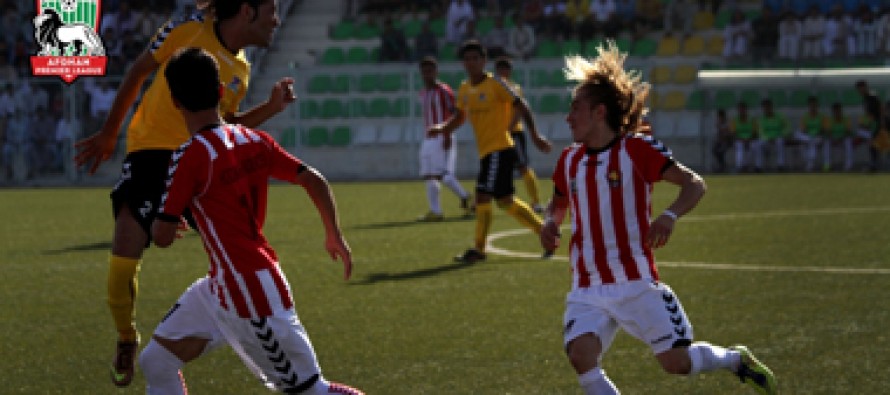 On the second day of the 2013 Roshan Afghan Primer League (RAPL) season, Shaheen Asmayee defeated Oqaban Hindukosh 3-1 in an action packed match on Friday.
Hashmatullah Barakzai scored twice and Amruddin Sharifi managed one against Oqaban Hindukhosh. The goal scorer for the losing side was Farhad Totakhil.
Shaheen Asmayee's forward Amruddin Sharifi notched the first points of the match when he made a streaking run with the ball into the box, which he finished by hitting a low left-footed drive in the lower right hand corner of the goal. Shaheen Asmayee entered halftime with a 1-0 lead.
Both sides looked evenly matched for the first portion of the second half, but it was again Shaheen Asmayee that asserted their dominance. After being awarded a free kick in the 53rd minute, Shaheen Asmayee's free kick specialist chipped the ball to forward Hashmatullah Barakzai who calmly settled the ball before hammering it low and hard for his team's second goal.
Each team exchanged scoring chances in the highly contested second half until Oqaban Hindukosh's efforts finally paid off in the 88th minute. An corner kick from the right side of the goal played short allowed central defender Farhad Totakhil to one-touch a flick that barely snuck under the crossbar. The Afghanistan Football Federation (AFF) Stadium buzzed as Oqaban Hindukosh gain one back from Shaheen Asmayee.
However, when the final whistle blew, Shaheen Asmayee walked away with a convincing two goal edge on their opponents.
Earlier on Thursday, Toofan Harirod thrashed De Spinghar Bazan 5-0 in the opening game of the seven-week competition being played in Kabul, on a newly-renovated artificial pitch funded by the world body FIFA.
The Afghan Premier League was established in 2012 and is Afghanistan's first ever national football league. It consists of eight teams, each representing a different region of the country. The eight teams are split into two groups of four, with each playing three matches in Kabul. (Source Tolo News)
---
---
Related Articles
Afghan World Boxing Union champion Hamid Rahimi is all set to face his rival from Tanzania, Syed Melyoub, in Kabul
By Mir Sayed Sediqi- Tolo News Afghanistan's national Taekwondo team returned home to a warm welcome after coming in second
RAPL press release- Toofan Harirod did not disappoint its fans. The technically and physically strong team from Herat and Western