Tofan Harirod takes on Simorgrh Alborz, winning the Final Cup of the Roshan Afghan Premier League
in Sports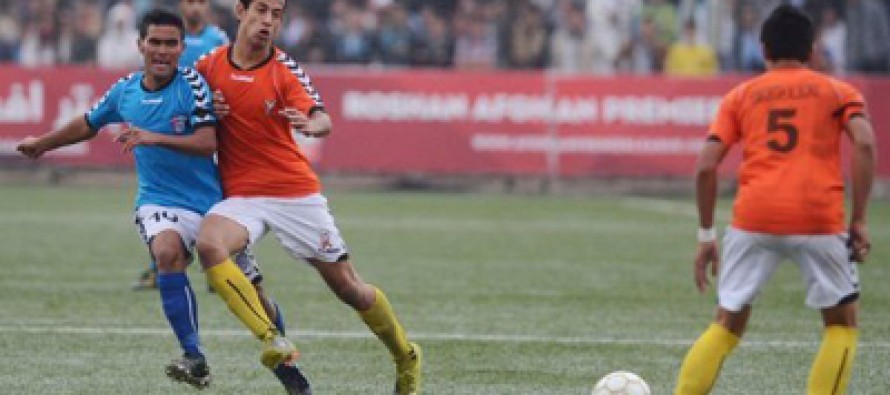 It was a tense match from the outset, as the final match of the Roshan Afghan Premier League brought out  over 4,000 fans to the AFF Stadium in Kabul. Tofan Harirod came against Simorgh Alborz on October 18, 2012 at 2:30pm, with the two teams vying for the overall APL 1st  place prize, but in an exciting match only one made the cut.
 Just seconds into the match, Tofan Harirod's Maruf Mohammadi scored against Simorgh Alborz, and cialis blood thinner  the fierce competition was on.
Just a few minutes later, Harirod's number 2, Hamidullah Habibi gets a yellow card in a run off against Alborz.
At 36 minutes, Harirod's number 10, Ghulam Raza Yaqubi made it into the box, bringing the score to 2:0, Harirod ahead.
Just 42 minutes, Harirod' earns another yellow- becoming a red card in a heated game..
At 73 minutes in, Maiwand  Atalan's number 10, Mustafa Jobal, drove it into the net, taking the gain to 3:2.
At 91:02, Alborg's number 7, Hossein Mohammadi strikes, scoring the first and ultimately only point for his team in the match.
And it goes to Tofan Harirod, earning first place in the Afghan Premier Leagues with a score of 2:1.. The fans jumped to their feet as their team won  in this year's Roshan Afghan Premier League final match, taking away $15,000USD for the team.
---
---
Related Articles
Manchester United sacked Moyes just 10 months after he succeeded Sir Alex Ferguson, who had himself chosen Moyes to replace
The newly formed football team, "Shaheen Asmayee" , will be presenting Kabul city in the coming Roshan-Afghan Premier League (RAPL).
After recording a success percentage of 66.6 percent; winning eight, losing four in a total of 12 T20Is, Afghanistan's cricket