Toofan Harirod and Simorgh Alborz Clash Again
in Sports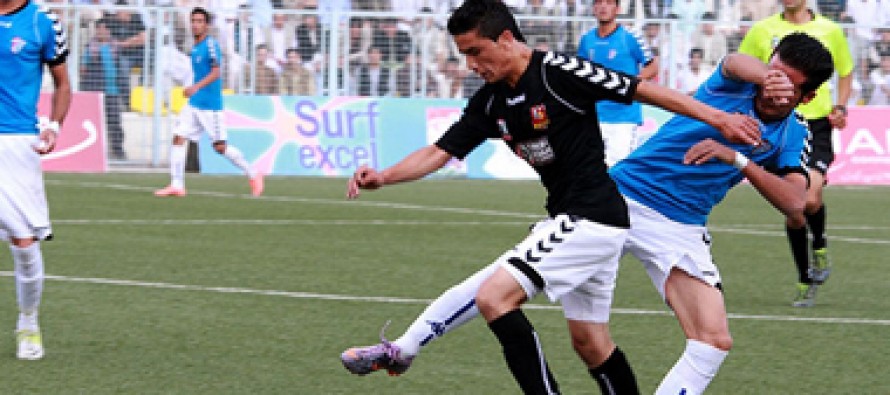 Today, Afghanistan is going to witness the clash of the two giant clubs of the Afghan Roshan Premier League: Toofan Harirod vs Simorgh Alborz.
The two rivals met in last season's final, where Toofan Harirod beat Simorgh Alborz and claimed the trophy.
Toofan Harirod is currently in first place in Group A with six points, but Simorgh Alborz is on their heels in second place only two points behind.
So far this season, Toofan Harirod – representing the Western region – have played two matches and won both. Simorgh Alborz – representing the north – has won one match and drew another against their northeastern rivals, Mawjhai Amu.
On Friday, Kabul's Shaheen Asmayee will face De Maiwand Atalan, the team from the southwest that has not one a single match this season.
Both matches will be played in the Afghan Football Federation (AFF) Stadium in Kabul with 04:00pm kick-off times. They will be broadcasted live on TOLO and Lemar TV.
In last week's matches, in the fourth week of the RAPL season, Toofan Harirod defeated Mawjhai Amu 3-0 and Oqaban Hindukosh – representing central Afghanistan – beat De Abasin Sape – representing the southeast – in a sound 5-1 victory.
De Spinghar Bazan, De Maiwand Atalan and Shaheen Asmyaee have all lost their first two matches of the season.
Toofan Harirod and Oqaban Hindukosh are the only two teams that have won all of their games thus far. Toffan Harirod is at the top in Group A and Oqaban Hindukosh is at the top in Group B, both with six points. Simorgh Alborz has been placed second in Group A with four points and De Abasin Sape is second in Group B with three points.(Source: Tolo News)
---
---
Related Articles
By Ahmadshah Ghanizada: The Afghanistan-A national cricket team defeated Pakistan-A cricket team by 54 runs during a 15 over friendly
The Afghan National Football Team will face Bhutan on Monday in the South Asian Football Federation Gold Cup (SAFF) held
Argentina secured third place in the Copa America by beating Chile in a very heated match. Argentina beat Chile 2